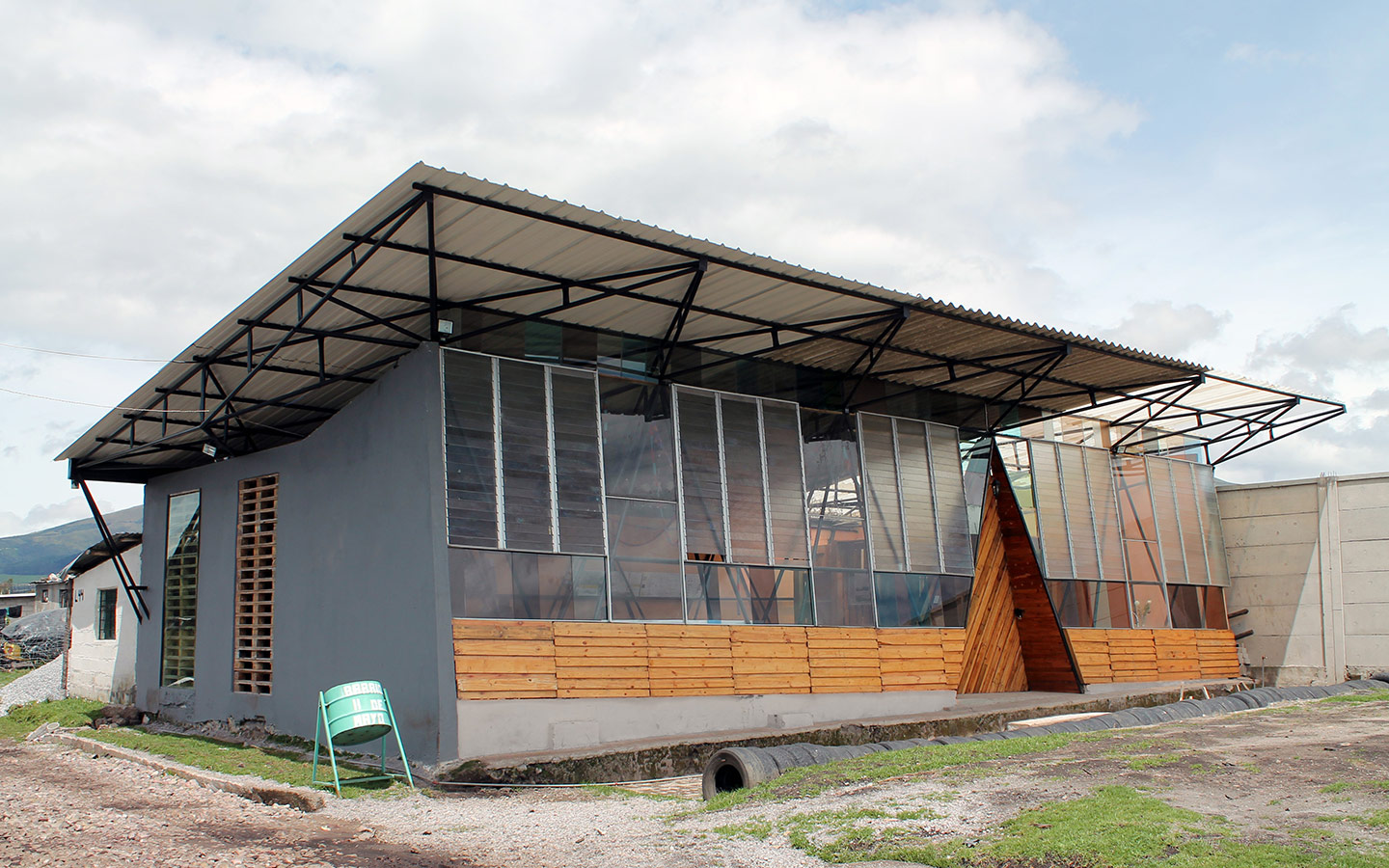 Profesores: Al Borde
Institución: Pontificia Universidad Católica del Ecuador
Comunidad: Barrio 11 de Mayo
Asesores: Paula Castello, Antropóloga y Patricio Cevallos, Ingeniero
Texto por: Maria Luisa Carrera, Arquitecta
Estudiantes: Alez Suárez, Christian Rea, Claudia Ponce, Daniel López, Darío López, Diego Carranco, Estefanía Lasso, Estefanía Loor, Francisca Tapia, José Orosco, José de la Torre, Leslie Páez, Martín Carvajal, Mauro Cepeda, Natalia Alvarado, Santiago Vaca, Sebastián Tipanta, Sergio Calderón & Vanessa Yumiseva
Professors: Al Borde
Institution: Catholic University of Ecuador
Community: Neighborhood 11 de Mayo
Advisors: Paula Castello, Anthropologist and Patricio Cevallos, Engineer
Text by: Maria Luisa Carrera, Architect
Students: Alez Suárez, Christian Rea, Claudia Ponce, Daniel López, Darío López, Diego Carranco, Estefanía Lasso, Estefanía Loor, Francisca Tapia, José Orosco, José de la Torre, Leslie Páez, Martín Carvajal, Mauro Cepeda, Natalia Alvarado, Santiago Vaca, Sebastián Tipanta, Sergio Calderón & Vanessa Yumiseva
El trabajo de Al Borde se basa en procesos empíricos que cuestionan permanentemente los métodos de la práctica arquitectónica tradicional. Sus proyectos reflejan un largo proceso de experimentación y aprendizaje que se manifiesta a través de un discurso que está en permanente construcción y que supera los límites materiales de la arquitectura. En "Taller Particular", esta exploración rompió con todos los convencionalismos del aprendizaje arquitectónico en Ecuador, proponiendo repensar el rol de la arquitectura y la academia en los procesos de construcción de la ciudades.
Al Borde's work is based on empirical processes that constantly challenge the traditional architectural practice. Their projects reflect a long experimentation and learning process manifested through a discourse in permanent construction that goes beyond the material limits of architecture. In 'Taller Particular' this exploration went beyond the conventional methods of architectural learning in Ecuador and proposed rethinking the role of architecture and academia in the processes of building cities.
ACADEMIA EN ACCION
Taller Particular sacó a los estudiantes del aula y los expuso a la realidad de la ciudad de Quito que, como la mayoría de ciudades latinoamericanas, se caracteriza por altos niveles de informalidad, inequidad y pobreza. El lugar seleccionado para desarrollar el taller fue el "Barrio 11 de Mayo", un asentamiento informal ubicado en la periferia sur de la ciudad. Enfrentar la realidad de este barrio y comprometerse con los habitantes a desarrollar un proyecto en conjunto obligó a los estudiantes a pensar en los factores 'no materiales' que forman parte indivisible? del proceso de construcción del espacio. De esta forma, el proyecto hizo visibles elementos socio-políticos, tales como el rol de la academia y particularmente de la disciplina arquitectónica en la construcción de ciudades, las relaciones de poder que se establecen entre los actores involucrados en estos procesos y las diferentes formas de negociación que materializan el espacio. Adicionalmente, el diseño y construcción de un proyecto real enfatizó la importancia de una gestión eficiente que considere tiempo, recursos y trabajo transdisciplinario coordinado. Estas reflexiones a varios niveles transformaron al proyecto en una plataforma de aprendizaje tanto para estudiantes como para docentes, estableciendo un excelente punto de partida para analizar la metodología utilizada en la formación de profesionales, la importancia de exponerlos a múltiples realidades con el fin de desarrollar un conocimiento no homologado y la necesidad imperante de repensar el quehacer arquitectónico en el contexto Latinoamericano.
ACADEMY IN ACTION
'Taller Particular' took the students out of the clasroooms and showed them the reality of Quito that, as most of the Latin American cities, is characterised by high levels of informality, inequality and poverty. The site chosen to develop the project was Barrio 11 de Mayo, an informal settlement in the perifery of the city. Facing the reality of the settlement and engaging with the community in the development of a collaborative project forced the students to think about the inmaterial factors that shape the process of production of space. Moreover, the project made visible socio-political elements of this process such as, the role of academy and particularly of the architectonic discipline, the power relations between the actors involved and the different forms of negotiation that materialise the space. Aditionally, the design and construction of a real project emphasised in the students the importance of efficient management of time, funds and transdiciplinary work. These reflections transform the project into a learning platform for students and professors and an excelent starting point to analyse the methodology used in the architectural schools, the importance of facing multiple realities in order to create diversified knowledge, and the prevailing need to rethink the architectural practice in the Latin American context.
APRENDIENDO SOBRE PARTICIPACION
Si bien los procesos participativos ya han sido aplicados durante varias décadas en proyectos de desarrollo; dentro del contexto ecuatoriano, la práctica arquitectónica sigue teniendo una aproximación impositiva en la que los arquitectos adoptan la posición de expertos ignorando las opiniones de los otros actores involucrados en los proyectos. En el caso del Taller Particular, Al Borde incluyó en el proyecto a la antropóloga Paula Castello quien facilitó el acercamiento a la comunidad y estableció espacios participativos dando voz a todos los actores. Este fue el primer paso para reflexionar sobre la importancia de la participación y el trabajo conjunto, no solo con la comunidad, sino también con otros profesionales, teniendo como resultado diversos puntos de vista y por lo tanto proyectos más incluyentes. Si bien todas las ideas propuestas por los estudiantes fueron consultadas y aprobadas por los habitantes del Barrio 11 de Mayo, el proyecto establece únicamente un inicio en la exploración de nuevas metodologías participativas que desarrollen estrategias verdaderamente democráticas, empoderando a los actores involucrados y resaltando la importancia política del espacio.
LEARNING ABOUT PARTICIPATION
Despite the use of participatory processes in development projects during the last decades, in the Ecuadorian context, the architectonic practice still has a top-down approach in which architects adopt the position of experts and ignore the opinions of the other actors involved in the projects. In the case of 'Taller Particular', the antropologist Paula Castello helped to create an initial connection with the community and established participatory spaces where the voices of other actors were expressed. This represents a first step on the reflection about the importance of participation and collaborative work not only with the members of the community but also with other professionals in order to have different perspectives and consequently more inclusive spaces. Even though all the proposals created by the students were disscussed and aproved by the community; this is only the beginning of the exploration of new participatory methodologies that allow for truly democratic strategies that empower the actors and highlight the political character of space.
EFECTO CATALITICO
Es fundamental reconocer que el acercamiento académico propuesto en este proyecto tuvo un efecto catalizador en las acciones de todos los actores involucrados. Por un lado; para la academia, Taller Particular representa una forma alternativa de producción de conocimiento que cuestiona la actitud indiferente de los profesionales ante la realidad socio-económica del país y abre el debate sobre cuál es el rol de la arquitectura y de la academia en la construcción de ciudades sostenibles y por lo tanto más justas. Adicionalmente, para los estudiantes representa el primer acercamiento a un proyecto social que expone la realidad en los espacios excluidos de la ciudad y propone una nueva forma de hacer arquitectura y relacionarse con la gente. Por otro lado, para la comunidad del "Barrio 11 de Mayo", el proyecto y específicamente la construcción de la casa comunal (obra necesaria para la legalización del barrio dentro del 'Plan de Regularización de Barrios Informales') es un incentivo para continuar trabajando de manera conjunta, planificando el futuro de su barrio y exigiendo sus derechos como parte de la ciudad. Finalmente, el proyecto tiene un efecto catalizador a nivel urbano puesto que hace visibles formas alternativas de construir ciudad desde espacios y actores que tradicionalmente excluidos o "ilegales".
CATALYTIC EFFECT
It is fundamental to recognise that the academic approach proposed in this project had a catalytic effect in the actions of all the actors involved in it. On the one hand, for the academia, 'Taller Particular' represents and alternative form of knowledge production that challenges the indifferent attitude of professionals in relation to the socio-economic reality of the country and opens a debate about the role of architecture and academy in the process of more equetable and sustainable cities. Additionally, for the students, the project represets the first approach to a social process that expose the reality of the excluded spaces of the city and propose a new way to practice architecture and engage with others. On the other hand, for the community of the Barrio 11 de Mayo, the project and specifically the construction of the communal house (construction required for the legalisation of the neighbourhood according to the 'Plan de Regularizacion de Barrios Informales') is an incentive to continue working together, planning their future and demanding their rights as part of the city. Finally, the project has a catalytic effect in a citywide scale because it makes visible alternative ways of building city in the spaces and with the actors traditionally excluded or 'illegal'.
PROYECTOS RELACIONADOS_RELATED PROJECTS